If you are a fan of AR-15′s, you likely know about Stag Arms.  After making their name manufacturing left-handed AR's, Stag has slowly forged a reputation for quality and innovation in the ultra competitive AR market.  When they announced their new factory-customized 3G model, I was intrigued.
The guys at Stag Arms Canadian distributer, Arms East, hooked me up with this great rifle.  If you are interested in any Stag Arms products, I highly recommend you give them a call as they are both knowledgeable and passionate about their products.  For your convenience, I have included a link to their website on the right corner of this blog.
While I know my AR's, I know little-to-nothing about competitive 3-Gun shooting.  I have absolutely no idea what makes a good 3-Gun rifle…  Thankfully, the nice folks at Stag Arms have taken all the guess work out of the equation with their new 3G AR-15.
Fit and Finish:
When it comes to overall finish, an AR need not be "military rough".  Personally, I love a nice overall polish on my  rifles.  I like to think the manufacturer put a little "care" into making a gun before I drop $2K worth of my hard earned money on it…  I have owned many low end rifles that have worked fine, but the overall fit and finish has always let me down.  This in not the case with the Stag Arms 3G.  The 3G has a uniform black finish throughout and is complimented by a very attractive stainless barrel.  Cap this off with the slick Samson Evolution Handguard, Magpul furniture and the Stag Arms 3G specific compensator and you have one hell of a beautiful AR15.

The Equipment:
The 3G looks and feels like a quality piece.  The standard Stag Arms milled lower is compleminted by a Magpul ACS Buttstock and MOE Pistol Grip.  (Pretty much the industry gold-standard these days).  I particularly like the ACS Buttstock which provides a very nice curved cheek rest that always seems to fit, regardless of shooting position.  I recommend one of these to anyone building a new AR.  As for the MOE Pistol Grip, it is nicely textured and provides a very engaging lower grip.  Stag Arms claims the Grip was specially selected for the Giselle 3-Gun trigger and, whether or not this fit was intentional, it seems to work nicely.
The Samson Evolution handguard is free floating and features a nice round shape, unlike the standard AR "cheese graters" we all know too well.  At 15 inches it is much longer than the standard AR handguard and is meant for the far forward grip favoured by the top 3-Gun Shooters.  With included picatinny "segments" to add accessories and customize as needed, this is one of the slickest rail systems I have encountered.  Light, smooth and highly customizable.  Need I say more?
The 18" stainless steel fluted heavy barrel is as beautiful as it is practical.  Chambered in .223 Wylde, its 1/8 twist rate should stabilize a wide variety of bullets.  (Especially useful for those of us who shop for bulk ammo bargains and often don't have a lot of choice in bullet weight.)  Accuracy didn't seem to be affected by barrel temperature.
The Barrel is capped with Stag Arms 3G compensator which is specifically designed to reduce muzzle rise and allow for quick follow up shots.  After placing just under 200 rounds down-range, I can honestly say this claim is more than just hype.  Nice to see a muzzle break that actually does what the manufacturer says.
To top it all off, Stag Arms has installed a Giselle 3-Gun specific trigger which is as smooth as butter and really lets the user make near instant follow up shots.  While I didn't use a trigger gauge to measure the overall trigger weight, I would say the trigger weight is between 3.0-3.5 lbs overall.  The Giselle trigger has absolutely no slop or play.  While the hybrid trigger pull takes some getting use to, 100 rounds in I was wondering how I ever did without it.  It is seriously that good…
Accuracy:
A pretty gun is no damn good if it can't shoot…  I expect a $2K rifle to be sub-MOA.  So, I slapped on an Aimpoint Comp M4s and headed to my local gun range.  (Stay tuned for a review of both the Aimpoint Pro and Comp M4S in the coming weeks).  With heavy winds and snow, this wouldn't be a day for pinpoint accuracy.  That being said, I put the 3G to my standard playing card test.  (The ability to hit a playing card at 100 yards 4 out of 5 times.)  This should be more than enough accuracy for any dedicated 3-gunner.
Reliability:
300 Rounds with no FTF's, FTE's or malfunctions of any kind using cheap American Eagle bulk ammo.  Given it was snowing heavily and -3 degrees Celsius, I would consider this 100% reliability.  I am also happy to report that 2nd Generation Magpul P-Mags function flawlessly in this rifle.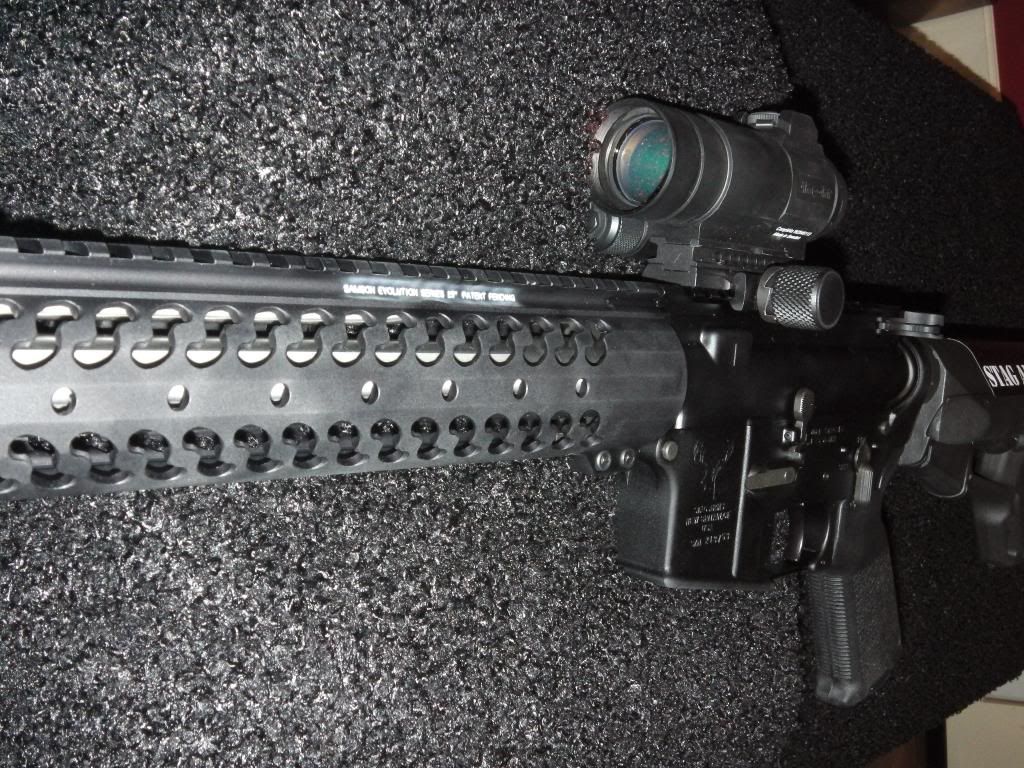 A closer examination of the rifles internals also make me think this is a rifle that will provide reliable results for a long time to come.  With a heavier bolt carrier than standard AR's, it seems Stag intended this firearm to last a very long time.
Value:
While I originally felt two grand was a lot to pay for a dedicated 3-Gun rifle, after some discussion with Stag Arms Canadian distributer Arms East, it is clear that you get a lot for the MSRP.  With a Giselle trigger, Samson handguard, Magpul fixtures, custom compensator, stainless barrel and stag upper/lower, it would be diffficult to build this gun yourself for less than $2,000.
The only down-side I can see is availability.  I was lucky to get this rifle.  How lucky?  After the recent "run on guns" in the US, Stag Arms has over a year of back-orders to fill and have stopped taking orders for the 3G.  That being said, this gun is worth the wait…